Deze speciale Sword & Shield collectie wil iedereen hebben. En wij begrijpen dit, want check deze bijzondere Charizard kaarten!
Heel af en toe kom je langs een set waarvan je denkt: "deze moet ik gewoon hebben!". Denk aan de Celebrations Elite Trainer box of de speciale EX Power tins. Bijzondere sets die je het liefst nog even geseald bewaard. In oktober komt daar een nieuwe verzamelset bij: de Sword & Shield Ultra-Premium Collection – Charizard! Deze verzamelset zal in 2023 nog een paar keer terug komen met steeds een andere bekende (en geliefde) Pokemon als thema. De eerste Premium Collection is het de beurt aan de Pokemon der Pokemon's: Charizard!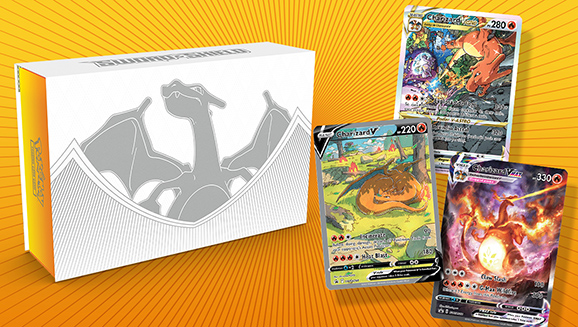 Wij hebben alvast wat informatie over deze Charizard special ingewonnen, en dit is wat we nu weten.
De box zal bestaan uit:
3 geschetste promo cards met daarop Charizard V, Charizard VMAX, and Charizard VSTAR
1 speelmat met als ontwerp de prachtige Gigantamax Charizard
65 card sleeves (Ook met Gigantamax Charizard als ontwerp)
1 metale munt met Gigantamax Charizard erop
6 dobbelstenen
3 markers (2 metalen en 1 van plastic)
16 Booster packs uit de Sword & Shield Series (diversen)
1 handleiding om de Sword & Shield Series te spelen
1 Code kaart voor Pokémon TCG Live / Online
Alhoewel de box pas in oktober uit komt (om precies te zijn komt de box op 22 oktober in Nederland in de schappen), zijn de 3 Charizard promo kaarten al bekend: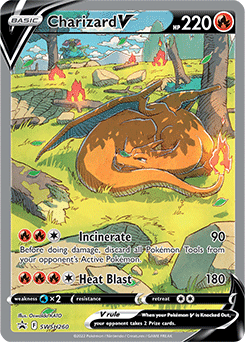 De Sword & Shield Ultra-Premium Collection – Charizard zal in Nederland ongeveer 149 euro kosten en is waarschijnlijk bij de pre sale al uitverkocht. Mocht je hem daarna via Marktplaats willen kopen, zal je rekening moeten houden met een prijs die minimaal 100 euro hoger ligt.